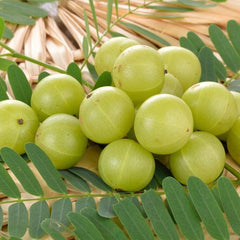 Did you know that Amla aka the Indian gooseberry has eight times more vitamin C than an orange and twice the antioxidants powder of açai berry?
This translucent green fruit originating from India has various health benefits including burning fat, aiding immunity and improving hair and skin.
Amla can be ate whole or also turned into a juice. If you are curious about the taste it is mainly sour but also a little sweet.
If you visit us in store be sure to pick up some!